Emotional Intelligence Improves College & Career Readiness

Lisa Cline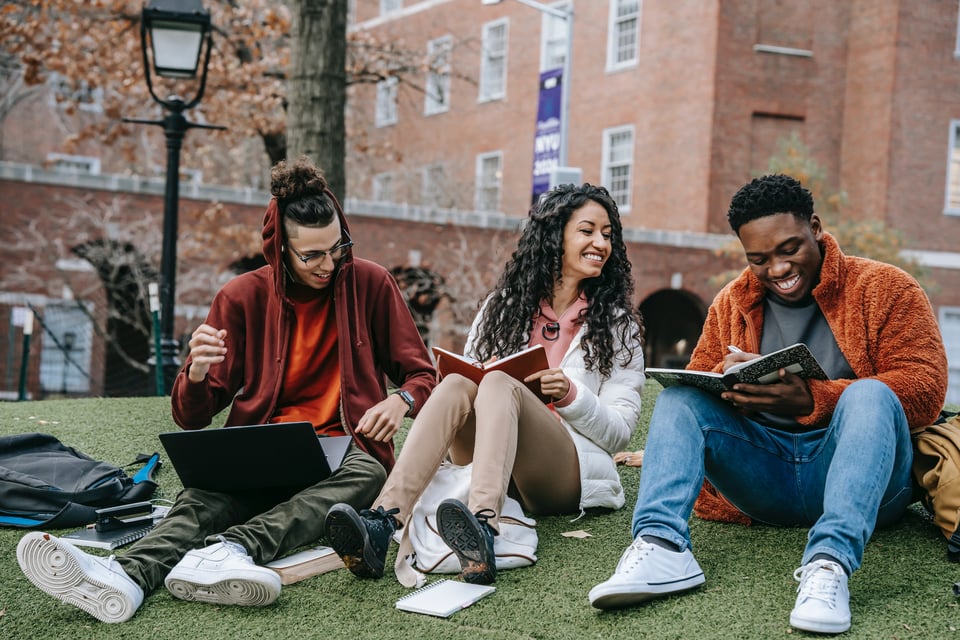 As students improve their emotional intelligence, they develop stronger motivation and confidence for reaching their goals.
You're likely hearing the term "emotional intelligence" more and more often in the world of academia — and with good reason. More than just another industry buzzword, emotional intelligence has positive lifelong implications for students and is particularly helpful during times of challenge and high stress.
Below we'll explain how intentionally focusing on emotional intelligence can help your students navigate these tough times by better understanding their emotions and relating to others.
Emotional intelligence can also provide your students with the tools they need for improved college and career readiness, plus overall personal, academic, and professional success.
Why Is Emotional Intelligence So Important Right Now?
Anxiety is at an all-time high for many. The uncertainty, along with the increase in screen time, of the past year and a half has been challenging and emotionally draining, if not stunting, for some children and young adults. Learners may feel distant, disengaged, and disconnected toward their teachers, their classmates, and their futures.
The Yale Child Study Center explains the value of emotional intelligence at school (and home) in the age of COVID-19. As kids throughout the country face new anxieties brought forth by the pandemic and constant fluctuations between in-person, hybrid, and remote learning, emotional intelligence is especially important in helping students cope.
What is Emotional Intelligence Exactly? Psychology Today describes emotional intelligence as "the ability to perceive, use, understand, and manage emotions."
Their research has revealed that emotionally intelligent students get better exam results and grades.
They share three ways emotional intelligence relates to higher academic performance.
Emotional intelligence helps students:
1. Cope with emotions in the academic environment
2. Maintain their relationships with teachers, students, and family
3. Understand humanities subjects (like literature or history) as they require some level of emotional and social knowledge
Additionally, Psychology Today describes three ways emotion regulation would be different for students with high emotional intelligence versus students with low emotional intelligence.
Emotionally intelligent students tend to:
1. Use better processes to regulate their emotions
2. Pick strategies that are more appropriate or effective for the situation they are in, such as positive reappraisal in an uncontrollable situation
3. Implement those strategies better
We know healthy emotion regulation translates to higher academic performance because of how it helps students focus their attention on the task at hand, make better decisions, and execute strategies that can improve their emotional well-being and goal achievement.
Is It Connected With Social Emotional Learning (SEL)?
Another term you're likely hearing a lot of is "social emotional learning," which is absolutely connected with emotional intelligence.
The Committee for Children defines social emotional learning as "the process of developing the self-awareness, self-control, and interpersonal skills that are vital for school, work, and life success."
The Collaborative for Academic, Social, and Emotional Learning (CASEL) promotes five competence areas SEL teaches:
1. Self-awareness
2. Self-management
3. Social awareness
4. Relationship skills
5. Responsible decision-making
Emotional intelligence is an ability. Social emotional learning is a process that develops that ability.
When SEL strategies are integrated into a school's curriculum, students develop and strengthen their emotional intelligence; a priceless, lifelong ability.
How Does Emotional Intelligence Improve Academic Outcomes?
Students with higher levels of emotional intelligence are more self-aware, better able to communicate with others, and more likely to be empathetic with their classmates and teachers.
Outcomes connected with these abilities include:
Seeing the big picture

Making mature decisions

Pursuing goals with motivation and confidence
These students are better able to manage themselves and connect how academic goals are linked to future wellbeing and career success — not just a grade at the end of a term.
How Does Emotional Intelligence Improve College & Career Readiness?
As students improve their emotional intelligence, they develop stronger motivation and confidence for reaching their goals. From K-12 grade level matriculation to college enrollment and graduation, they are more likely to successfully advance through each stage of their education and be well-prepared for their careers.
When K-12 teachers and students develop their emotional intelligence, it directly affects dropout rates, attendance, bullying, classroom achievement, graduation rates, and college enrollment.
When students in higher education develop their emotional intelligence, it positively affects their personal wellbeing, academic success, selection of major, and career readiness.
How Does True Colors Improve Emotional Intelligence?
Partnering with True Colors International just makes sense for educators. Our methodology and programming perfectly complement emotional intelligence and social emotional learning practices.
We can help you create a psychologically safe space and a shared language for your school, so teachers and students better relate to one another and achieve their academic and advancement goals.
With True Colors as their guide, teachers and students will develop their emotional intelligence through:
Increased self-awareness

Improved communication skills

Elevated empathy for others
Increased Self-Awareness
Increased self-awareness of participants is a critical outcome of working with True Colors. We help teachers and students enhance their understanding of themselves and their classmates, to improve acceptance of each other's strengths and weaknesses and value their differences.
Improved Communication
True Colors education solutions teach educators and students alike how to use a shared language to communicate with one another more effectively and to work better in teams. Plus, by developing a shared language in your school, you're creating a more psychologically safe environment for social emotional learning to take place.
Elevated Empathy
With the help of True Colors, teachers and students will increase their capacity to understand and feel what another person is experiencing. They will better understand their fellow classmates' motivations and fears. As a result of this elevated empathy, conflict in the classroom will be prevented and collaboration will naturally increase.
Students and Teachers Succeed With Emotional Intelligence
You won't regret providing your students — and teachers — the tools they need to succeed in the classroom and beyond. Psychologically safe spaces for learning, happier classrooms, and improved college and career readiness are just some of the ways improved emotional intelligence will make teaching and learning a better experience at your school.