4 Reasons Your Hybrid Work Model Could Fail — and 4 Solutions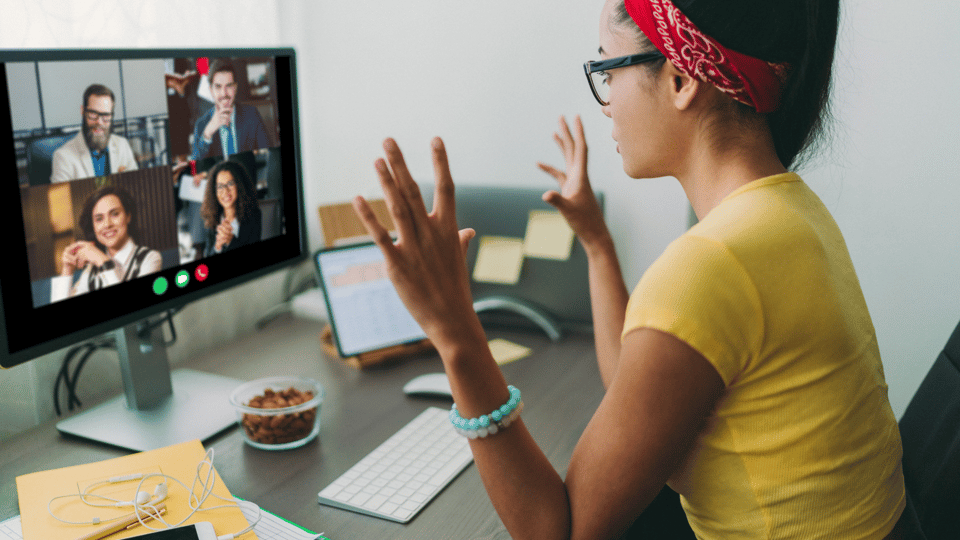 Hybrid work comes with a learning curve as we reinvent the workplace.
The workplace has changed because we have changed — and a hybrid work model is here to stay.
Employees have new expectations about where, when, and how they work. Following worldwide stay-at-home orders, people are acutely aware of the ups and downs of working in the office, as well as the ups and downs of working at home.
The result? People are demanding flexibility. Of the more than 9,000 workers around the world that Accenture surveyed for their Future of Work Study 2021, 83% of them want a hybrid work model.
Companies are accordingly reinventing the workplace to ensure optimal employee satisfaction and productivity. In the rush to implement needed change, some aspects of your hybrid work model may not succeed. Below are four ways your hybrid work model could fail -— and four solutions.
4 Reasons Your Hybrid Work Model Could Fail and What to Do About It
1. Your hybrid work model allows a flexible location, but not a flexible schedule
Hybrid work to many companies means "productivity anywhere," but it should actually mean "productivity anywhere at any time." For your hybrid work model to be a success, you must allow people to flex their schedules in addition to their location.
Employees have peak performance hours, as well as a wide range of different personal responsibilities. Empowering them to craft when they get their work done allows them to utilize their time efficiently.
For instance, a morning person may choose to get detailed work done every day from 5-7 a.m. That's when her household is quiet, and her mind is most alert. A night owl may regularly catch up on emails from 8-10 p.m. so he can get a midday break from the screen with a workout and shower over a long lunch.
Does there need to be certain required availability? Of course. You must consider team meetings, creative brainstorms, client needs, and being available to one another to move projects forward. However, these are not reasons to demand a rigid 9-5 Monday through Friday routine.
Be creative and trusting. At the end of the day, what's best for your employees' work life is what's best for your company's productivity.
2. You utilize too many digital communication tools
Email. Slack. Google Drive. Zoom. Microsoft Teams. Texts. Chats. Project management software of all kinds. The list could go on and on.
No wonder employees get overwhelmed and unresponsive. It can be hard to even know what tool to check and when.
There must be clear standards about what digital means of communication your company uses. A company-wide policy may make sense, depending on the size of your organization. Otherwise, it may be appropriate to allow team by team or department by department to decide among themselves what digital tools they'll utilize.
If you want hybrid work to be a success, everyone involved needs to know how best to communicate with one another.
3. You're hybrid work model isn't developing your community
When a work environment — in-person, remote, or hybrid — lacks community it becomes purely transactional in nature. While this may keep the wheel of productivity spinning for a time, it will eventually hurt morale and lead to high turnover.
If you don't want to be constantly recruiting, hiring, and training — only to have these same employees shortly leave for bigger and better opportunities — then building community is imperative.
Be intentional about regular in-person or virtual team-building activities. Schedule professional development workshops that provide employee training and build community. For instance, any of the True Colors workshops.
True Colors has workshops, all of which can be customized for your organization, in communication, conflict navigation, teaching and learning styles, consultative selling, true parenting, and team building.
4. You never received employee opinions or buy-in
Without taking the time to learn what your employees are truly looking for in a hybrid work model, you may be wasting energy implementing changes and policies that no one wants.
There's a simple solution: Ask them! Conduct a company-wide survey to learn more about what your employee's need to perform at their highest level. People appreciate having their opinions considered. You won't be able to satisfy everyone and meet every need, but by taking the time to listen you'll earn a higher level of employee buy-in.
"It's incredible what happens when you give your employees the information to feel comfortable buying into important decisions; higher employee morale, improved employee attitude, and greater levels of employee satisfaction are just a few of the benefits," explains the National Business Research Institute.
As you develop and improve your hybrid work model, remember to give yourself and your colleagues grace. Hybrid work comes with a learning curve as we reinvent the workplace. When you discover a reason your model isn't working, learn from it and move forward. There are reasons new policies and procedures can fail, but there are always solutions as well
.